The Minnesota Vikings encountered a significant setback as starting defensive lineman Dean Lowry landed on the injured reserve list due to a torn pectoral muscle sustained during the team's 21-20 loss to the Denver Broncos on Sunday, November 19.
ESPN's Kevin Seifert reported the injury, and head coach Kevin O'Connell confirmed it in a news conference on November 20, noting that Lowry would undergo surgery, leading to his placement on injured reserve in the short term.
Although Lowry could potentially return after four games, the severity of the pectoral tear and its timing suggest that his season might be over, aligning with similar cases involving Danielle Hunter and Anthony Barr in 2021 and 2020, respectively.
Lowry, a 2016 fourth-round pick by the Green Bay Packers, signed a two-year, $8.5 million deal with the Vikings in the offseason, making his injury a significant blow to the team. He has amassed $27.4 million in his career.
Rookie players Jaquelin Roy and Khyiris Tonga will step in to fill Lowry's role on the defensive front for the remainder of the season.
Despite Lowry's status as a priority free agent in the spring, his usage in Brian Flores' defense had decreased in recent weeks due to a groin injury suffered in Week 8. Tonga and Roy, though rotating in Lowry's role, have not matched the playing time of other defensive interior linemen.
Pro Football Focus (PFF) grades for the season reveal Lowry ranking 157th among 194 defensive tackles with a 47.4 defensive grade, Tonga at 132nd with a 52.6 grade, and Roy at 84th with a 60.0 grade in their limited action.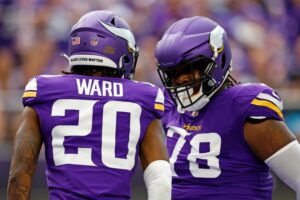 The Vikings, known for their strength in stopping the run, allowing 3.4 yards per rush (fourth in the NFL), may rely more on Tonga's run-stopping ability, given his impressive track record of not missing a tackle across 99 defensive snaps.
At 6-foot-4, 337 pounds, Tonga stands out as a formidable force in the run game, despite PFF not fully reflecting this strength. The Vikings could turn to Tonga for added support in run defense, while Roy may specialize as a situational interior pass-rusher. Managing without Dean Lowry, the Vikings face challenges in adjusting their defensive lineup for the final weeks of the season.