Buffalo Bills quarterback Josh Allen, emphatically stating that the team's offense wasn't broken, recently showcased its resurgence under interim coordinator Joe Brady. Following the firing of coordinator Ken Dorsey, Allen's decisive play against the New York Jets reinforced his point. In a strategic move, Allen, lining up with an empty backfield, identified the Jets' defensive formation as "66 Buzz" and executed a remarkable 81-yard touchdown pass to Khalil Shakir.
This play, the NFL's longest-scoring of the season, secured a 32-6 victory, bringing a buzz back to the Bills' offense. Coach Sean McDermott acknowledged the intangibles of the offense showing up in the second half, emphasizing effort and unselfish play. The win marked a step forward, addressing the stagnation and predictability that had characterized the Bills' previous performances.
With a 6-5 record, the Bills face a challenging stretch in their schedule, confronting NFC East-leading Philadelphia, AFC West-leading Kansas City, and hosting Dallas after a bye week. The defense, depleted by injuries, adds pressure on Allen and interim coordinator Joe Brady to build on their promising start.
Against the Jets, Allen and Brady diversified the offensive approach, incorporating new dimensions beyond Allen's primary target, Stefon Diggs. Despite Diggs' subdued performance, Allen's ability to find open receivers and Brady's incorporation of the run were evident. The Bills had 18 rushes in the first half, the most in a game since January 2, 2022, injecting creativity into an offense that had been overly static.
Left tackle Dion Dawkins expressed the significance of the performance, providing the team with a positive mindset. The offense's ability to complement the defense, allowing it to respond with six sacks and two interceptions, stood out. However, special teams showed vulnerability, with recent issues like too many men on the field and being fooled by a fake punt against the Jets.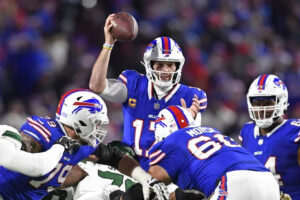 Rasul Douglas, playing his third game since being acquired in a trade with Green Bay, shone with two interceptions and a fumble recovery. On the downside, wide receiver Gabe Davis went unnoticed, not receiving any targets. Injuries include S Taylor Rapp's neck injury, CBs Taron Johnson and Dane Jackson in the concussion protocol, and day-to-day status for safeties Micah Hyde and Cam Lewis.
A notable statistic was the Jets' 0-11 performance on third down, the first time Buffalo has blanked an opponent since 1987. Looking ahead, the Bills, led by McDermott's homecoming in Philadelphia, aim to build on the positive momentum generated by Allen and the revitalized offense.