In Sunday's game against the Denver Broncos, the Minnesota Vikings, led by quarterback Joshua Dobbs, experienced their first loss in the Dobbs era. Despite the setback, Dobbs expressed appreciation for the fans who attended the game, particularly those who donned astronaut costumes as a playful gesture.
Acknowledging the fans' creativity, Dobbs took to social media, commending the astronauts in the stands and thanking everyone who embraced the challenge of braving the elements in their space suits.
Dobbs, known for his background in aerospace engineering during his college days with the Tennessee Volunteers, found the astronaut theme fitting. In 2019, he interned at NASA's Kennedy Space Center while already playing in the NFL with the Jacksonville Jaguars.
Despite the fanfare, Dobbs and the Vikings fell short in a close 21-20 road loss to the Broncos. Dobbs' performance included 20 completions on 32 attempts, accumulating 221 passing yards with a touchdown and an interception. Additionally, he rushed eight times for 21 yards and contributed a touchdown on the ground.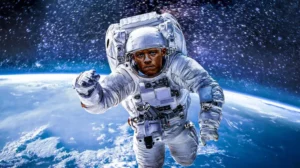 While the loss ended the Vikings' five-game win streak and dropped them to a 6-5 record, Dobbs has exceeded expectations as the starting quarterback, stepping in after Kirk Cousins' season-ending injury. Looking ahead, the Vikings aim to bounce back in Week 12 against the Chicago Bears at home.