Denver Broncos safety Kareem Jackson is now facing a four-game suspension without pay from the NFL due to his hit on Minnesota Vikings quarterback Joshua Dobbs during their recent matchup. This is Jackson's second suspension of the season, both stemming from repeated illegal hits targeting opponents' heads.
The league's announcement on Monday afternoon pointed to "repeated violations of playing rules intended to protect the health and safety of players" as the grounds for this suspension.
The specific incident in question occurred early in the first quarter, where Jackson lowered his helmet, forcefully making contact with Dobbs' facemask, leading to a fumble and a subsequent turnover in favor of the Broncos. Despite the impact of the hit, officials did not penalize Jackson during the game, and he plans to appeal the suspension, as reported by ESPN's Adam Schefter.
Vice President of Football Operations Jon Runyan, in a letter from the NFL, underscored the gravity of Jackson's actions.
Runyan emphasized that video evidence revealed Jackson had an unobstructed path to Dobbs and could have avoided the illegal contact. The league is firm in its commitment to enforcing rules against helmet-to-helmet contact, stressing a zero-tolerance policy for actions that jeopardize player safety.
This suspension follows Jackson's previous four-game suspension in October for illegal hits that resulted in his ejection against the Green Bay Packers.
The league later reduced this suspension to two games upon appeal. Jackson's return to the field against the Vikings marked his comeback from the earlier suspension, and the illegal hit occurred just three snaps into his return.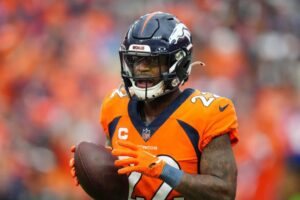 Jackson's history of infractions includes a hit on Green Bay tight end Luke Musgrave in Week 7, leading to ejection and subsequent suspension. He was also previously ejected for a Week 2 hit that concussed Washington Commanders tight end Logan Thomas.
Despite fines for these incidents, the NFL had not suspended Jackson before this season. In total, he has incurred fines amounting to $89,670 this season for four illegal hits, highlighting the league's unwavering commitment to player safety.