The Cleveland Browns are grappling with significant uncertainties at the offensive tackle position, posing challenges for the ongoing season and future prospects. Injuries have plagued the starting left and right tackles, Jedrick Wills and Jack Conklin, with Wills particularly struggling before being placed on injured reserve due to a knee injury. Conklin, too, suffered knee problems early in Week 1, ending his season prematurely.
Rookie Dawand Jones has stepped in for Conklin with reasonable success. However, the left tackle position, especially for the upcoming season, remains uncertain. Despite Wills being under contract through 2024, there's speculation that Cleveland might explore alternatives if a superior option becomes available.
Bleacher Report's NFL Staff recommended the Browns pursue Green Bay Packers offensive tackle Yosh Nijman during the offseason. The suggestion aims to bolster depth at the position and potentially replace Wills if necessary. Nijman, a spot-starter for the Packers, is seen as a high-quality backup who could provide stability if Wills faces further injury or struggles.
Nijman's playing time with the Packers has diminished in 2023, playing only 22% of offensive snaps and earning just one start. Despite the reduced role, his versatility at both left and right tackle positions has been highlighted. The 27-year-old received the second-round tender from the Packers as a restricted free agent, indicating a potential annual contract figure around $20 million. However, with his reduced playing time, the market value might be more reasonable.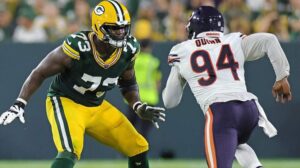 David DeChant of The Athletic noted Nijman's versatility and solid performance, suggesting he could command a reasonable deal. Despite reduced snaps in 2023, Nijman has proven solid, with Pro Football Focus player grades surpassing Wills' numbers across the board. This makes Nijman a sensible offseason target for the Browns, offering a potential solution to their offensive tackle concerns at a reasonable value.