The Cleveland Browns' recent victory over the Pittsburgh Steelers underscores why locking in Kevin Stefanski as the head coach for an extended period is a no-brainer. Stefanski has proven himself as one of the NFL's top coaches, warranting a well-deserved contract extension for his impressive contributions to the Browns.
With a 7-3 record, Stefanski has guided the Browns to victories against formidable opponents like the Baltimore Ravens and the Steelers in consecutive weeks, a historic feat for the franchise. What makes this achievement even more remarkable is that the Browns secured these wins with three different quarterbacks during the season.
Stefanski has effectively addressed previous concerns, such as defeating strong teams and securing meaningful wins within the division. The Browns' ability to triumph over undefeated teams like the San Francisco 49ers and the reigning AFC North champions, the Baltimore Ravens, demonstrates Stefanski's strategic prowess. Furthermore, the recent victory against the Steelers, achieved with a rookie quarterback, adds another layer to Stefanski's coaching success.
Beyond the statistics, Stefanski's impact is evident in the team's exceptional culture. Players consistently give their best effort, reflecting a strong sense of camaraderie and a "next man up, next play" mentality. Stefanski's servant leadership has fostered an environment where players feel empowered and trusted to make crucial contributions.
Noteworthy is the involvement of players like Amari Cooper in suggesting strategic moves, emphasizing Stefanski's ability to create a collaborative and empowered team. This culture has been cultivated since Stefanski's arrival, with a multitude of leaders emerging within the team, contributing to their success on the field.
Stefanski's experience, now in his fourth season, has proven invaluable. His meticulous planning, evident in training camp and game execution, showcases the impact of his seasoned approach. Despite occasional criticism of his play-calling, Stefanski consistently delivers clutch decisions and employs creative strategies, addressing weaknesses caused by injuries.
The Browns' game management under Stefanski has been exceptional, as seen in their ability to close out crucial games effectively. The team's winning drives against the Ravens and the Steelers highlight Stefanski's strategic prowess and his team's ability to capitalize on critical moments.
While some critics may attribute the team's success to defensive coordinator Jim Schwartz, it's Stefanski who made the hire and orchestrated improvements in special teams through strategic coaching additions. Stefanski's success extends to hiring and empowering his assistants, a critical aspect of his effective leadership.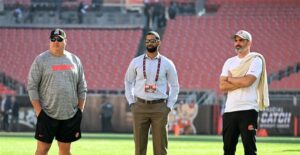 Stefanski's composed demeanor on the sideline, despite fan and media expectations for emotional displays, speaks to his focus on controlling emotions and staying engaged in the game. His role as a coach is to lead the team effectively, not to cater to external perceptions of sideline behavior.
In summary, the decision to secure Kevin Stefanski and general manager Andrew Berry for the long term is clear. Their synergy and contributions to the team's success make them integral to the Browns' future.
Stefanski's continued growth as a coach, coupled with potential division title aspirations, positions him as a strong candidate for Coach of the Year. The Browns would be wise to solidify Stefanski's role in guiding the team forward.